ERAMET
Summary
Conseils-Plus mission: AMOA
Industry/Sector: commodities / massive transport
About ERAMET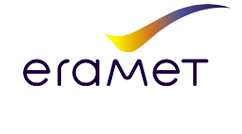 Eramet is a world leader in alloy metals, including manganese and nickel, high-end metallurgy and mining (COMILOG, Manganese Mine in Gabon). Eramet is also developing activities with strong growth potential, such as mineralized sands (titanium dioxide and zircon), lithium and recycling. The Group employs approximately 13,000 people in 20 countries. In 2018, Eramet realized a turnover of approximately 3.825 billion euros.
Learn more about ERAMET

The stakes of the mission
The COMILOG Sales project consisted in integrating into the existing SAP environment at Eramet the massive commercial and logistical activities (transport by boat) of the company COMILOG, owned by Eramet, formerly under the ERP Baan. This project, which was part of a limited scope and in a tight schedule (6 months), was strategic for the Group because it carried the most profitable commercial activity at that time. The key success factors have been to offer SAP solutions compatible with the functions already in place, to make maximum use of SAP Standards functions in the mass transport domains (TSW module) in order to obtain a strong SAP user support. and to define processes in line with operational (treatment load and efficiency) and regulatory (compliance with Gabonese standards) issues.

Conseils-Plus support
We intervened as an integrator for the entire implementation project COMILOG Sales, following an Agile methodology.
After defining target processes in an iterative and prototype-based model, we set up and developed the solution, meeting the constraints of other ongoing projects and an off-project SAP BC administration.
The team, made up of 8 consultants, facilitated user training and drafted operating procedures.
The team provided support for the data collection and preparation phases and guided COMILOG during the tipping and coordination phase.